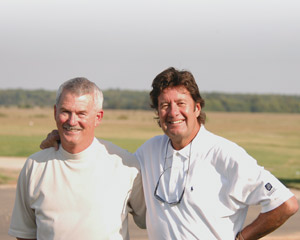 One of the most prominent and successful design teams in Texas has broken up. Austin-based Randy Russell and Roy Bechtol are going their separate ways after working together for around 10 years.
In that span, sometimes working with Tom Kite or Carter Morrish, often working just as a tandem, Russell and Bechtol have produced some outstanding and notable golf courses. And nearly all of them in Texas: Comanche Trace in Kerrville; The University of Texas Golf Club in Austin; Legends Golf Club in Kingsland; The Golf Club at Star Ranch in Hutto; The Ambush at Lajitas; Riverplace Golf Club in Austin.
All together, they have created around 50 courses. The most recent opening is ConCan Country Club, and they will work together to complete five golf courses already in the works at the time of their split.
Both designers downplayed any suggestion their split has anything to do with disagreements over work or personal matters, each saying it was just time to go his own way.